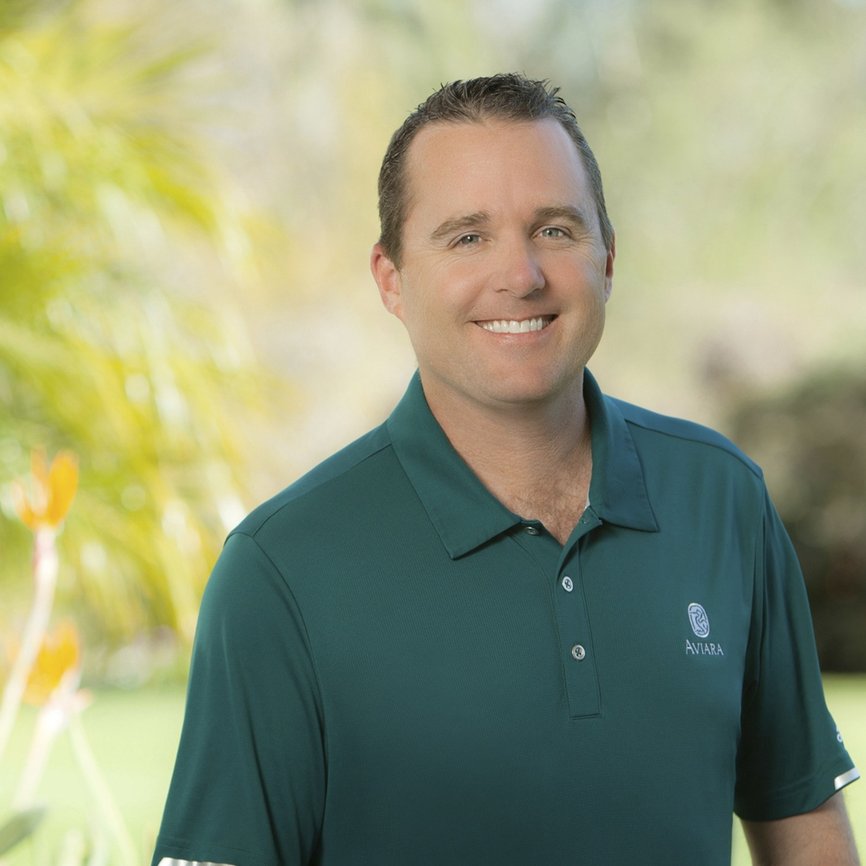 Renny Brown -Director of Golf
A San Diego native, Renny has always been around the game of golf thanks to his dad. At 12 years old he spent the summer caddying for his dad and friends at Singing Hills Resort (now Sycuan). After carrying the bag for 18 holes he was rewarded with a Coke and $7. After graduation from SDSU with a degree in Economics in 1994, Renny became an Assistant Golf Professional at Singing Hills and three years later moved up the coast to Aviara Golf Club in the same capacity. He earned his PGA Membership in 1998. Now, 23 years later, Renny is the Director of Golf at Aviara. His favorite hole is #18, a par 4 that requires you to hit two really good shots, and in his opinion has to be one of the best finishing holes in Southern California. Once upon a time Renny had a great month, getting two hole-in-ones within three weeks of each other. Those remain the only two in his career, he just needs six more to catch up to his dad who has 8! Until then Renny enjoys the sport of golf for the challenge. He says that golf is one of the only games that you can play and enjoy by yourself. It is always fun to play with others, however there aren't too many sports that you can play by yourself and still feel challenged each time you play.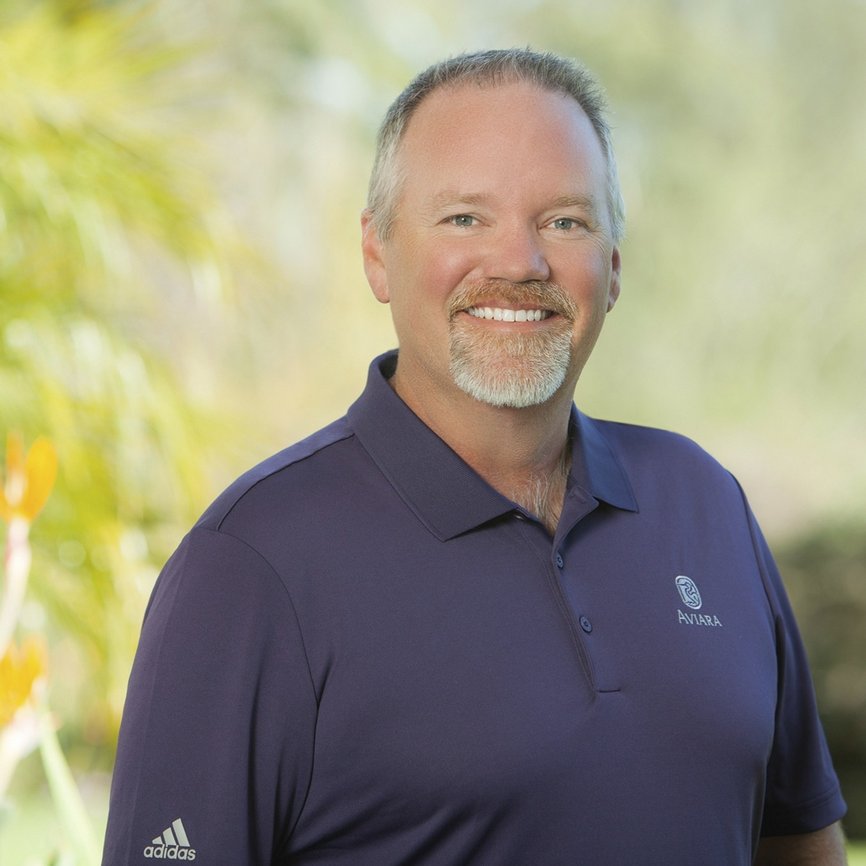 Johnny Walker -Head Golf Professional
Born in London, England, Johnny learned the game of golf from his father at the young age of 5. After moving to the San Diego area and graduating from the San Diego Golf Academy in 2003, he began his career at Eagle Crest Golf Club as an assistant golf professional. In 2005 he joined the team at Aviara Golf Club and is currently our Head Golf Professional.

Prior to his golf career, Johnny served in the U.S. Navy as an Electronics Technician. He is an avid volleyball fan and has coached the sport for 30 years.


When asked what his favorite hole at Aviara is, Johnny say's "Hole number one, because it has trees named after me." Hand-in-hand with that comment, his favorite thing about the sport is that it is one of the most frustrating and satisfying things you could ever do. Johnny has 4 hole-in-one's including one here at Aviara is on the third hole.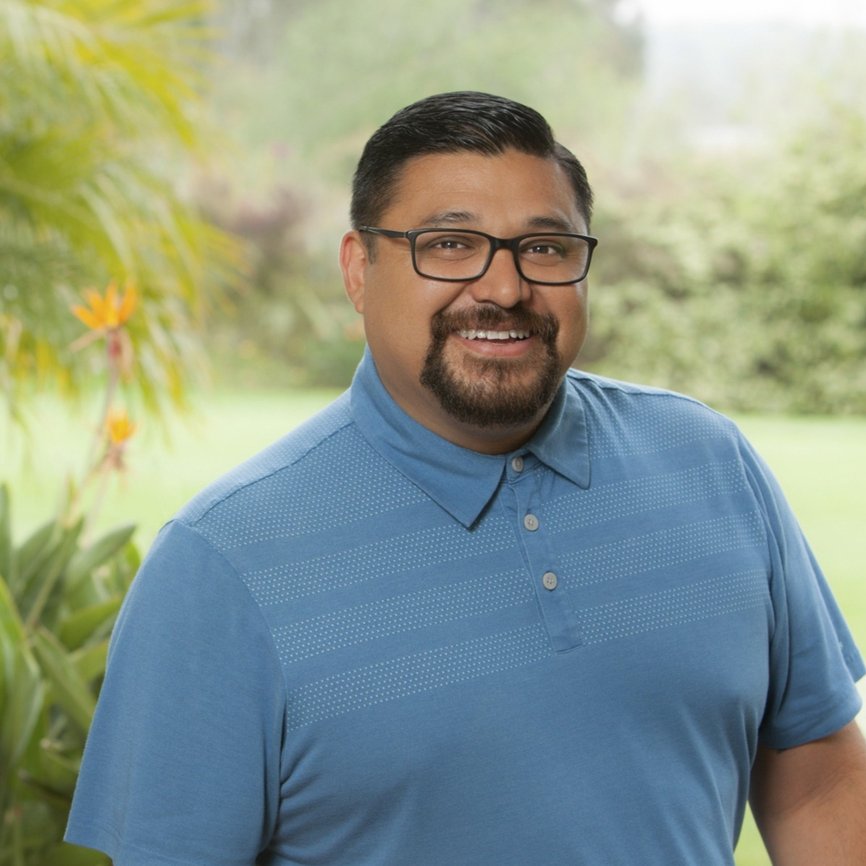 Cesar Hernandez -1st Assistant Golf Professional
As a San Diego native, Cesar has always enjoyed coaching. He spent 20 years as a competitive soccer coach before turning his passion into golf instruction. Cesar graduated from the Golf Academy of America San Diego with an Applied Business in Golf Complex Operations and Management degree. Cesar brings a variety of experience of coaching and golf retail before joining the Aviara team in 2017 as Assistant Professional and promoted to 1st Assistant in 2019. As an instructor, Cesar has a passion for engaging others into the game of golf and enjoys seeing students learn and practice their skills on the course. Cesar's favorite hole at Aviara is the par 3 Hole #14, playing from the back tees at 201 yards with water in play will always make an interesting decision of club selection. Maybe #14 will be where he makes his first hole-in-one!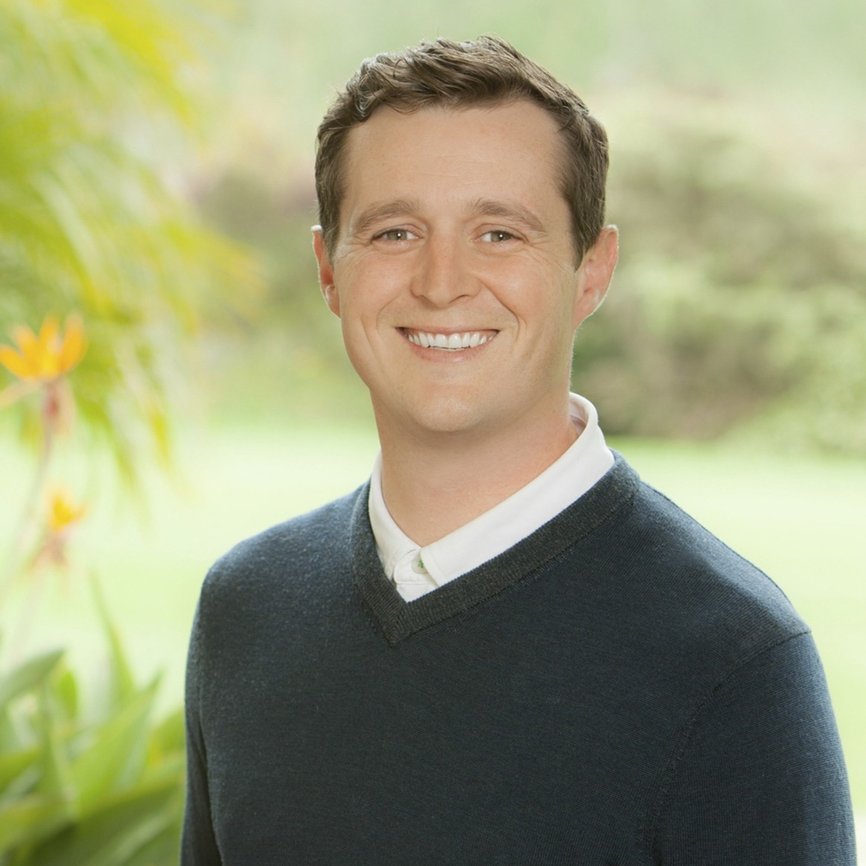 Steve Shumaker -Membership & Golf Sales Director
From Cleveland, Ohio, Steve was introduced to the game of golf by his father at age 12. He continued his passion for the sport and later attended Kent State University majoring in Tourism Management. With his degree in tourism, this naturally paved the way for him to head to sunny San Diego, specifically Carlsbad, the "Golf Manufacturing Capital of the World." Being in a city surrounded with golf, Steve was drawn back to the sport of golf and furthered his education at the Golf Academy of America. Upon graduation he began his career at Fujikura Golf as a custom club builder. In 2013 he joined the Aviara Golf Club as an Assistant Golf Professional and after two years launched the club's membership program and was promoted to be the club's first Membership & Golf Sales Director.
Steve's favorite hole to play with prospective members is Aviara's #8 because he made a Double Eagle on July 26, 2014. His favorite thing about golf is that it is played in beautiful places with friends and it can be very casual or very competitive. Steve has yet to make a hole-in-one but that day is on the horizon.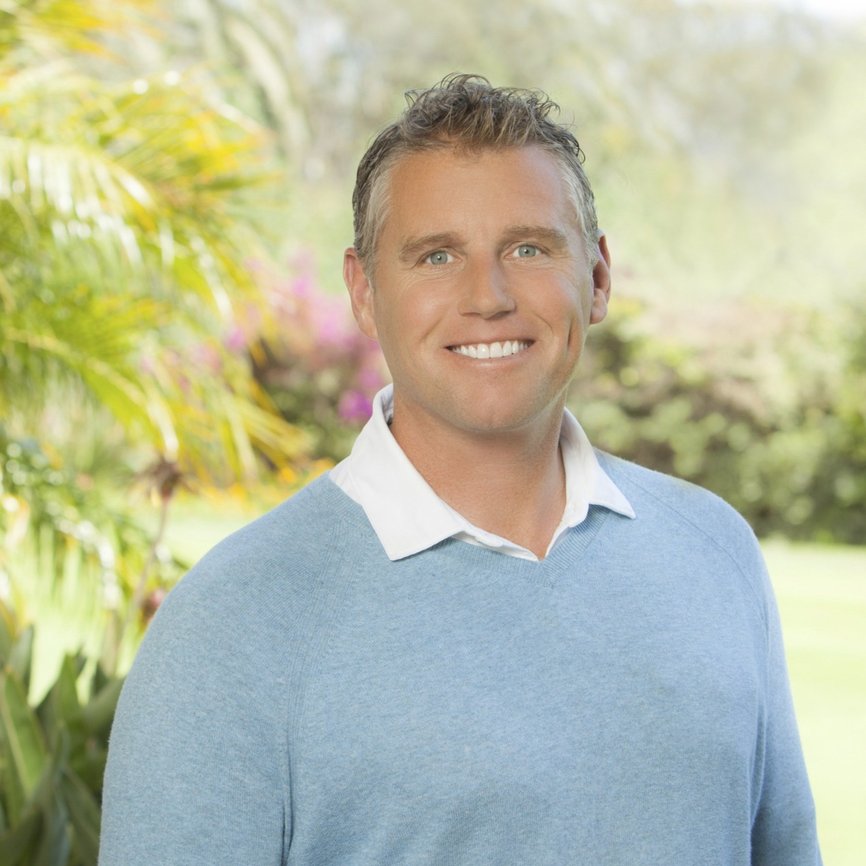 Kevin Kienast -Grounds Superintendent
Born in Lansing, Michigan and raised in the state of Washington, Kevin's passion for golf began as a teenager at the local municipal golf course. While attending Western Washington University, he played two years of football as a fullback and earned his degree in Business Management. Kevin has a diverse background in golf resorts including, Omni Tucson National Resort, Pala Mesa Resort and Morgan Run. He joined Aviara Golf Club as Golf and Grounds Superintendent in 2003 and is an integral part of the golf experience at Aviara.
Kevin's position enables him to enjoy his primary passion on a day-to-day basis and affords him the opportunity to have a significant and enduring impact at the Aviara Golf Club. His favorite hole at Aviara is #11, the most picturesque from the tee and a great par 3. So far Kevin has made two hole-in-ones in his lifetime, one of which is hole #3 at Aviara. Still, his favorite thing about golf is spending good times with his friends.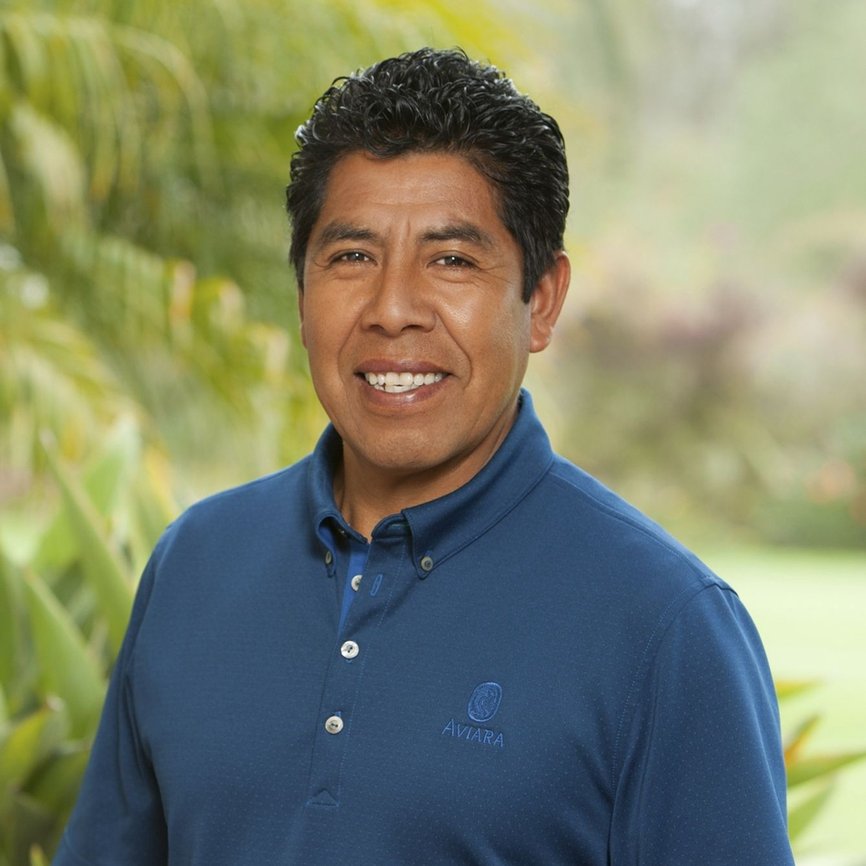 Franco De Jesus -Assistant Superintendent
Franco was born in Oaxaca, Mexico and holds the title as the longest employed associate at Aviara Golf Club. The course was still under construction when he was hired in 1990. After completing his Golf Course & Turf Management Certificate at Mira Costa College, Franco was hired at La Costa Resort before moving to the newly constructed Aviara Golf Club. Only after being hired at Aviara did he learn how to play golf! His favorite hole is #3 because of it's beauty and he warns that you can easily be distracted by the water features and flowering plants. While no hole-in-ones have come his way yet, he knows it is bound to happen. Until then he will enjoy his favorite thing about the game of golf – being in nature.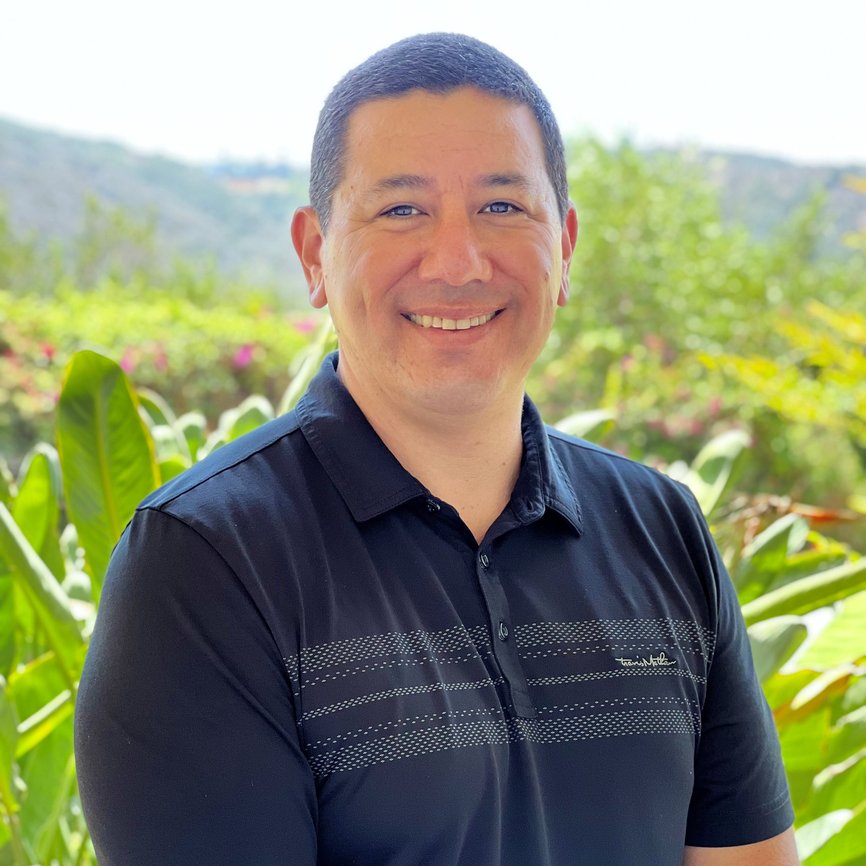 Dominic Rivera
Born at Camp Pendleton and raised right here in Carlsbad, Dominic has been a fixture around the Aviara Resort since 1999 where he has held various roles including, Supervisor positions at the Front Office, Safety & Security , Food and Beverage and Concierge.
In 2020 as a member of the Hotel Concierge team Dominic was tapped to temporarily assist down at the golf pro shop while the Park Hyatt Aviara Hotel was undergoing renovation. Little did anyone know this would be the start of his career at Aviara Golf Club.
Now almost three years later, Dom is an avid golf enthusiast who you'll regularly see practicing at the driving range or putting green during his lunch break.
While not here at Aviara enjoying golf life, Dominic enjoys the beach life and riding his beach cruiser along the Oceanside Strand.
Dominic's favorite hole at Aviara is #7 for its scenic panoramic view. Dom enjoys providing instruction with beginner and junior golfers.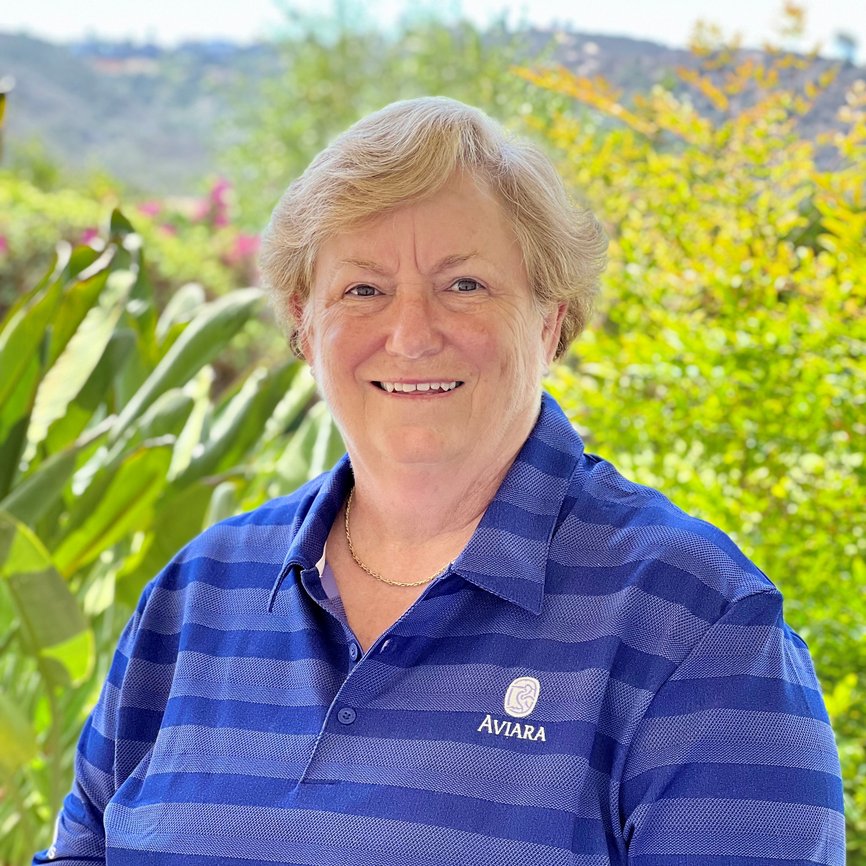 DeeDee Lasker
Born in Chicago, IL and has resided in the San Diego area for 35 years. Deedee started playing golf at the age of 12 in the junior golf program at Medinah Country Club. She graduated from the University of Tulsa, with a degree in Business Administration, with emphasis in Marketing. As a walk on to the Women's Golf Team she played on three National Championship Teams. (1980 and 1982 AIAW Championship and 1982 NCAA Championship). After college Deedee qualified for the LPGA Tour where she competed from 1983 – 1994. While on tour she had two 2nd Place finishes and a 6th Place in the 1987 Women's US Open.
Since retiring from the LPGA Tour Deedee has worked at various positions in the Golf Industry. Including Cobra Golf, Del Mar CC, Callaway Golf, Jim McLean Golf School and the Del Mar Golf Center. Before COVID Deedee worked at Golf Pride Grip Company for 16 years as a Key Accounts Rep., working with distributors and focusing on the retail end of Golf Prides business.
Deedee volunteers for Canine Companions for Independence and is the proud owner of Stapleton, one of their release dogs. Deedee is very passionate about teaching and loves to get out and play an occasional 9 holes.
FAVORITE GOLF SAYING: "GOLF. It is a science – the study of a lifetime in which you may exhaust yourself but never your subject."(David Forgan)